Landscape photography is a brilliant genre that gets you out into nature throughout the year. It often requires grit, bags of patience, skills honed over many years and, crucially, the right camera equipment, too.
We recently caught up with award-winning photographer, Marcus McAdam, who has been a pro for over 18 years and has lived and worked all over the world, including China and Italy. He now resides on Scotland's picturesque Isle of Skye, where he manages his Skye Photo Academy photo workshop business. He also takes on commercial work for clients like Caffè Nero and China Southern Airlines, and lectures at dedicated photography schools in the UK.
• Elevate your outdoor game with the best cameras for landscape photography (opens in new tab)
Marcus tells us his story, how he got into landscape photography, as well as the camera setup he uses for commercial clients and the 8x20" ultra large format film he uses for fun! To see more of his fantastic work or to book a workshop, check out his website (opens in new tab).
"I started getting into photography after my father bought me a Minolta X300 SLR film camera (opens in new tab) for my 18th birthday and have been hooked ever since.
"Canon's EOS 5D Mark II was the first digital camera I felt rivaled film and I loved the convenience of being able to play back images, check the histogram and change ISO between shots. I eventually upgraded to the Canon EOS 5DS R, which I still use now. With digital I found that I took too many photos. It's great when you're learning, as practice makes perfect, but I ended up with thousands of shots and I was only using my top 1%.
"Now when I shoot for commercial clients who want great-quality files ASAP, I use my 5DS R. But I've fallen back in love with film photography in recent years and I shoot film when I have more time. It's more challenging, and I end up putting more consideration into images. I shoot less and use almost all of the photos, which I find more rewarding.
"I'm working on a book called Lifesize Landscapes, which will showcase photos from my 8x20-inch ultra large format film camera, printed at the same size as the camera that recorded them. We've had too much HDR, oversaturation, cloning and sky replacement, and I think people are starting to get tired of the lack of authenticity in photography.
"I love that my shots are 100% genuine. I need to limit myself to around 50 ultra large shots per year, as I only buy two boxes of 25 sheets of film which are over £200 each (approximately $240 / AU$365). So mistakes are costly!"
(opens in new tab)
"I bought [my latest] EOS 5DS R recently and it has only just been unboxed. It replaces my now six-year-old previous EOS 5DS R, which is still going strong, but I gave it to a friend so that I could treat myself to a new one! Even though newer mirrorless models are available, I still love to shoot on DSLRs and consider this to be the best body Canon has ever made."
2. Kase Double Grad filter
(opens in new tab)
"I came up with the concept for this Kase filter and it has since won a few awards. It's a very simple idea but works incredibly well, with a hard grad on one end and a soft grad on the opposite end. Having two filters in one makes it more economical and also reduces the number of filters I need to carry in my bag. These Double Grads currently come in 2- and 3-stop versions."
• Check out the best ND grad filters (opens in new tab)
3. Chamonix 8x20" Ultra Large Format film camera
(opens in new tab)
"This is a beast of a camera that takes panoramic 8x20 inch negatives. The film has to be custom-made, but you can shoot straight onto photo paper cut to the right size as an alternative option. It takes a few minutes to set this camera up, so it's only useful for static subjects. Despite its size, it's not as heavy as it looks due to being mostly carbon fiber – weighing in at 6kg."
4. Pentax Spotmeter V
"This is a vintage piece of kit, and the same model used by Ansel Adams back in the 1960s and 1970s. Even though there are much newer and more advanced light meters available, I find this model to be the most accurate. A handheld light meter is essential when calculating exposures on a large-format camera, as they have no built in metering system."
• These are the best light meters (opens in new tab)
5. Schneider Super Symmar 210mm f/5.6
"This is a wide-angle lens for my ultra large format camera. To get the full-frame equivalent focal length you need to divide it by 12, so this 210mm lens has the same angle of view as a 17.5mm on my Canon EOS 5DS R! I also have a 300mm (25mm full frame equivalent), a 450mm (37mm equivalent) and a 610mm (50mm equivalent)."
• Discover the best wide-angle lenses (opens in new tab)
6. Minolta Rokkor 58mm f/1.2 PG
"Made in 1969, this lens was considered to be the best of its era. Even today, they give modern lenses a good run for their money! You can convert them to use with a Canon EF mount, which is exactly what I did and I use it on my EOS 5DS R for portraits – it has a quality to it that I haven't found in any other lens. It's pin-sharp and has amazing bokeh when shooting at f/1.2."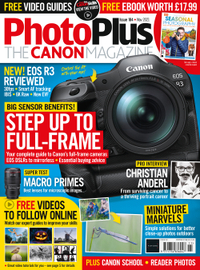 (opens in new tab)
PhotoPlus: The Canon Magazine (opens in new tab) is the world's only monthly newsstand title that's 100% devoted to Canon, so you can be sure the magazine is completely relevant to your system. Every issue comes with downloadable video tutorials too.