If you're looking to replace your old and weathered camera and looking to replace it with one of the best Canon cameras on the market today.
Now let's address the elephant in the room, three of these deals are refurbished bodies direct from Canon USA, while the DSLR is brand spanking new. If you don't mind picking up a refurbished body from Canon you can save some serious dollars.
Below we have collected the best Canon deals on their flagship models in each category, so if you a repro looking for your next best camera for sports or you're just starting and looking for the best camera for beginners, these four deals will cover any photographer or filmmaker at any skill level, and best of all they all save you a heap of money!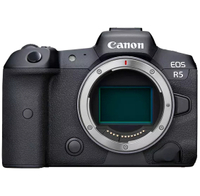 (opens in new tab)
Refurbished EOS R5 Body|was $3509|now $3099 (opens in new tab)

SAVE $410 With 8K RAW video recording, slow-motion 1080p at 120fps along with a 45-megapixel full frame CMOS sensor and 100-51,200 ISO range the R5 is a beast of a camera for all situations
As a stills camera, the Canon EOS R5 is simply Canon's finest product ever. It's the perfect amalgamation of the EOS R's form, the EOS 5D's function, and the professional-grade autofocus of the EOS-1D X.
If you're a stills or hybrid shooter who flits between photography and videography, it's one of the best cameras you will ever have the pleasure of using. Alas, we can't recommend the R5 if your primary interest is pure video shooting.
Don't get us wrong, its video is incredible – but having to navigate the overheating restrictions prohibits it from being your A-camera (unless you only shoot 4K 30p, in which case you don't need this anyway).
Read our full Canon EOS R5 review for more details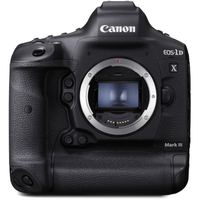 (opens in new tab)
Canon EOS-1D X Mark III|was $6,499|now $5,999 (opens in new tab)

SAVE $500 The last of Canon's Pro DSLRs the 1D X Mark III produces 20MP stills at a blistering 16fps, while also being able to record 5.5K video at 60fps. If you want a solid package that takes advantage of the vast Canon EF lenses this is the pinnacle of Canon DSLRs.
With the Canon EOS1-D X Mark III, the typically cautious company has released a camera packed with bleeding-edge tech, including deep learning AF, an optical Smart Controller, HEIF and HDR PQ support, CFexpress, 12-bit internal 4K RAW, head tracking and so much more.
Canon has combined the advantages of DSLR and mirrorless to produce a hybrid body that can shoot according to what the situation demands. While it lacks the luxuries of mirrorless, this camera does so much that no other system can.
Read our full Canon EOS1-D X Mark III review for more details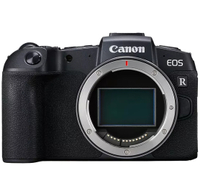 (opens in new tab)
Refurbished Canon EOS RP|was $899|now $699 (opens in new tab)

SAVE $200 The smallest and lightest full frame mirrorless camera in the EOS range, This camera is perfect for beginners. Equipped with a 26.2MP sensor, EVF with 2.36 million dots, and access to the new Canon RF lenses this is a great camera for anyone new to photography or wanting to upgrade to a mirrorless system for the first time.
While its competitors are going to great pains to create increasingly advanced – and increasingly expensive – high-end full-frame mirrorless cameras, Canon is catering to crop sensor consumers who are looking for a full-frame upgrade that won't break their back or their bank balance.
The Canon EOS RP is a big success in this regard, offering full-frame functionality and 4K video in a package that's notably smaller, lighter, and cheaper than almost all its rivals. It's far from an entry-level camera, but it's ideal for an entry-level full-frame camera.
Read our full Canon EOS RP review for more details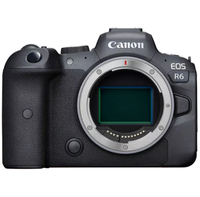 (opens in new tab)
Refurbished Canon EOS R6|was $899|now $699 (opens in new tab)

SAVE $270 With a 20MP full frame sensor with a 100-102,400 ISO range and a blistering 20 frames per second burst speed with the latest Dual Pixel AF and 4K video capabilities this is an all-around powerhouse.
The Canon EOS R6 is a versatile all-round camera that can shoot pretty much anything. Aside from a few differences, it's essentially an EOS R5 with lower resolution and less high-end video.
If you're content with fewer megapixels, you'll enjoy one of the most advanced and impressive cameras we've ever seen. Its autofocus is truly otherworldly, the in-body image stabilization is the best of any full-frame system, the 4K video is crispy and delicious (though occasionally overcooked), the dual memory cards make it suitable for professional work, and it unlocks the brave new world of Canon's phenomenal RF lenses.
Read our full Canon EOS R6 review for more details
If this has been helpful we recommend taking a look at the best Canon cameras, best cameras for beginners or why not take a look at the best Canon EF lenses or best Canon RF lenses for these new-to-you cameras.